New for 2017:

Announcing

A Dictionary for the Modern Pianist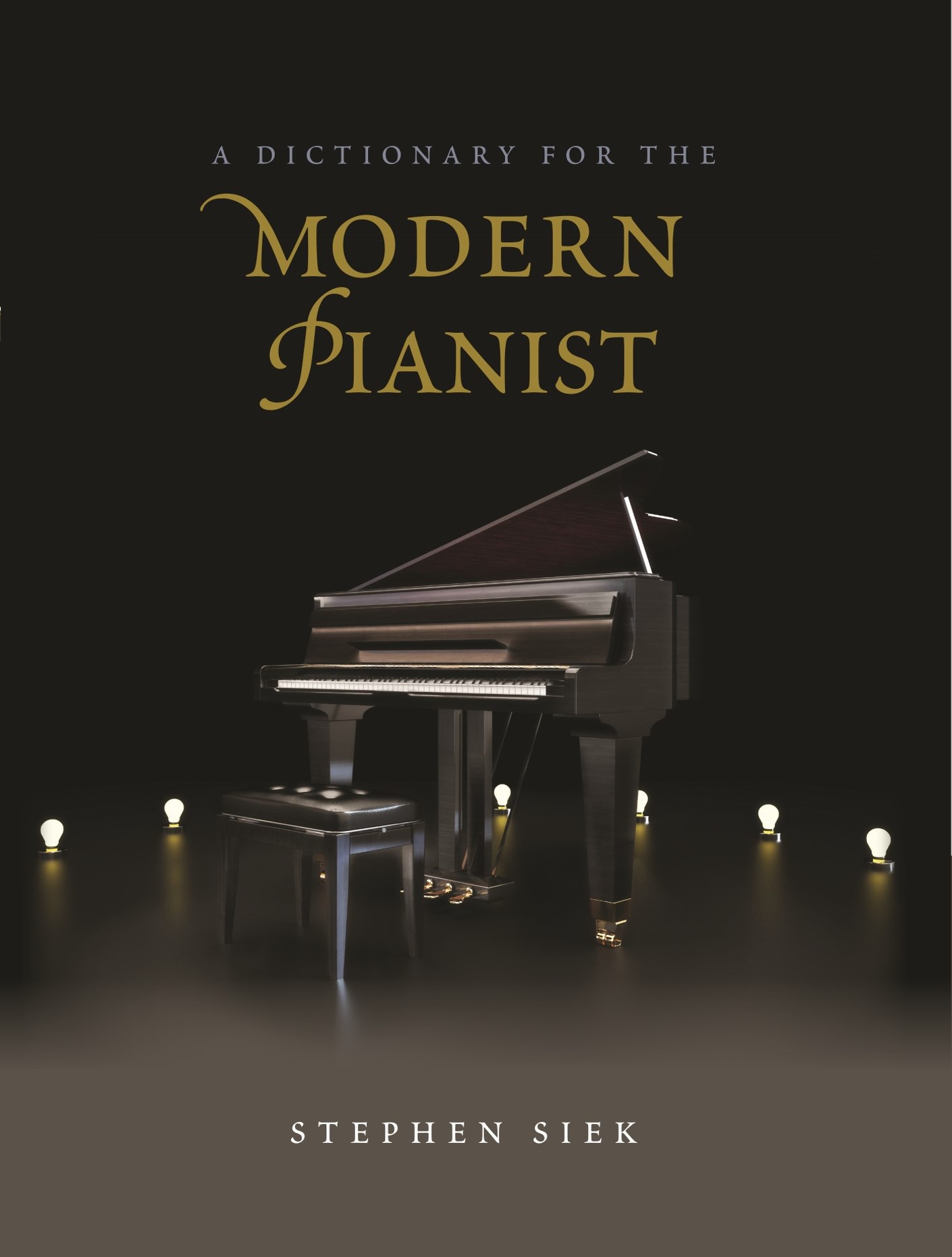 A Dictionary for the Modern Pianist is now available from Rowman & Littlefield. The latest entry in R&L's highly regarded Dictionaries for the Modern Musician series, it combines nearly four hundred entries covering classical and popular pianists, noted teachers, terminology germane to the piano's construction, and major manufacturers——both familiar firms and outstanding, independent builders who have risen to the forefront in recent years. Speaking to the needs of the modern performer, it also includes entries on jazz and pop artists, digital pianos, and period instruments.
As a resource for professionals and students, A Dictionary for the Modern Pianist is also accessible to more general readers, as all of its topics are presented in clear, readable expositions. Drawing on the most recent research of numerous specialists, author Stephen Siek emphasizes the piano's uniquely rich heritage, giving pianists a renewed appreciation for the famous artists and teachers who have shaped their art. Transcending simple alphabetical definitions, the dictionary's careful attention both to legacy and detail make it an invaluable addition to any pianist's library.
Although many piano dictionaries have appeared in the last several decades, the approach taken with this volume is different, for even though it is fully "modern" in the sense that the scholarship is current, and it contains articles on digital, as well as acoustic, pianos--and pays ample attention to jazz artists—over 200 entries have been devoted to the most iconic pianists of the past. When queried, college and conservatory teachers in the U.S. and Europe have repeatedly commented on one of the most troubling aspects of modern teaching: that their students seem largely unaware of the legacy of their art, a situation somewhat analogous to serious art students who have studied the mechanics of their craft, but who have never seen a Rembrandt or a Vermeer. If only in some small measure, this book aims to increase awareness of the legacy bequeathed by artists such as Cortot, Gieseking, Hofmann, Rachmaninoff, Schnabel, and scores of others, and most of these entries have been expanded to essay length, following the Grove model. For a fuler statement of the goals of this volume, please click on the "Preface" link at the left.
A Dictionary for the Modern Pianist also contains three extraordinary essays which serve as appendices: one by Edmund Michael Frederick on historic pianos and their relationship to modern repertoire, another by S. David Berry on digital pianos, and a third by master Pianolist Robert Berkman on player and reproducing pianos. It is hoped that the originality and intelligent commentary provided by these experts will make this volume even more worthwhile.
Titles in Rowman & Littlefield's "Dictionaries for the Modern Musician" series offer novice and advanced musicians key information on the field of study and performance of a major instrument or instrument class. Unlike other encyclopedic works, contributions to this series focus primarily on the knowledge required by the contemporary musical student or performer. From quick definitions of confusing terms to in-depth overviews of history and tradition, the dictionaries are ideal references for students, professionals, and music lovers of all kinds.
ISBN: 978-0-8108-8879-1
eBook ISBN: 978-0-8108-8880-7

All material on this website is protected by copyright. No text, and especially no excerpts from A Dictionary for the Modern Pianist can be reproduced in any form without written permission from Rowman & Littlefield.